Take a photo and send a message
The aim of this initiative in Celbi, was to promote, publicise and raise the workers and service providers, awareness of issues relating to Occupational Safety.
On 11th September 2018, Celbi hosted an activity entitled "Take a photo and send a message". This initiative was not just for Celbi's employees, it was extended to external service providers, and it consisted of filling balloons with helium to ensure that they remained visible all day long.
The balloons contained five different slogans: "Attention! Do not cause an obstruction!"; "Always Evaluate the Risk!"; "Be careful! Moving parts!"; "Follow the Rules or Leave!" and "Are your safety goggles on?" According to Ângela Ribeiro, Celbi's Occupational Safety Technician, "It was a long day and we walked many miles trying to get to as many workers as possible."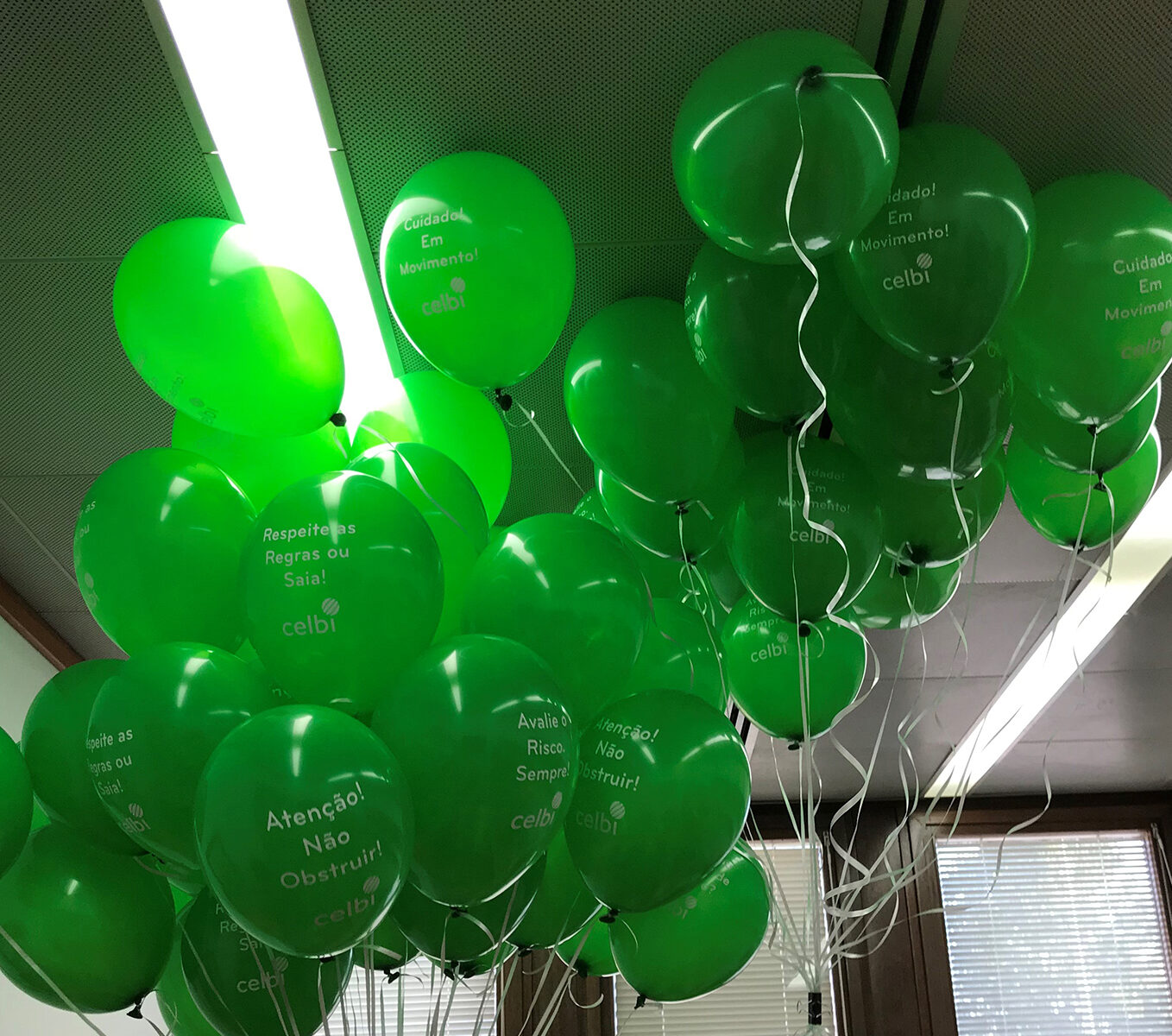 The initiative covered all the control rooms, the electrical, mechanics and auto-mechanics workshops, the constructions sites with the most external workers, the offices, general warehouse, laboratory, medical office and the canteen.
As the team moved throughout the mill they placed their balloons and talk with everyone they came across, warning those that were not in the pathways, those driving forklift trucks and lifting platforms were reminded to be extra careful when driving inside the mill, and workers allocated to the different work sites were warned about the importance for the use of safety goggles.
The initiative was put together and carried out by Celbi, in partnership with LTM – Consultoria, to publicise and raise awareness among the company's employees and service providers of issues relating to Occupational Safety

Every worker who participated in the initiative was given a sticker with the message: Commitment to Safety – I'm in.

Both Celbi's employees and external service providers, allowed the "moment" to be recorded on a printed photograph, and then suggesting a criative phrase. They came up with many creative captions that day, showing their commitment to this initiative, which successfully demonstrates how to perform a task whilst ensuring safe behavior.

Ângela Ribeiro underlined that generally "everyone took part in and asked questions about the aim of the activity", adding that "the main goal of the initiative was to address different Occupational Safety issues, and in that regard, we exceeded our expectations."

At the end of the day, a mural was created at the mill entrance, using the pictures that were taken. In this way, the team was able to weave everyone's Occupational Safety commitments into the mill which will serve as a permanent reminder.

Ângela Ribeiro concluded by saying: "We have a long road ahead of us, and all the initiatives that arise should be regarded a positive step so that we all face safety as our daily focus in the workplace. We want our Commitment to Safety to be a Commitment shared by Everyone!"